Own Your Uniqueness, Accelerate Your Impact | Kath Clarke delivers lightning speech at Future Women IWD Summit 2023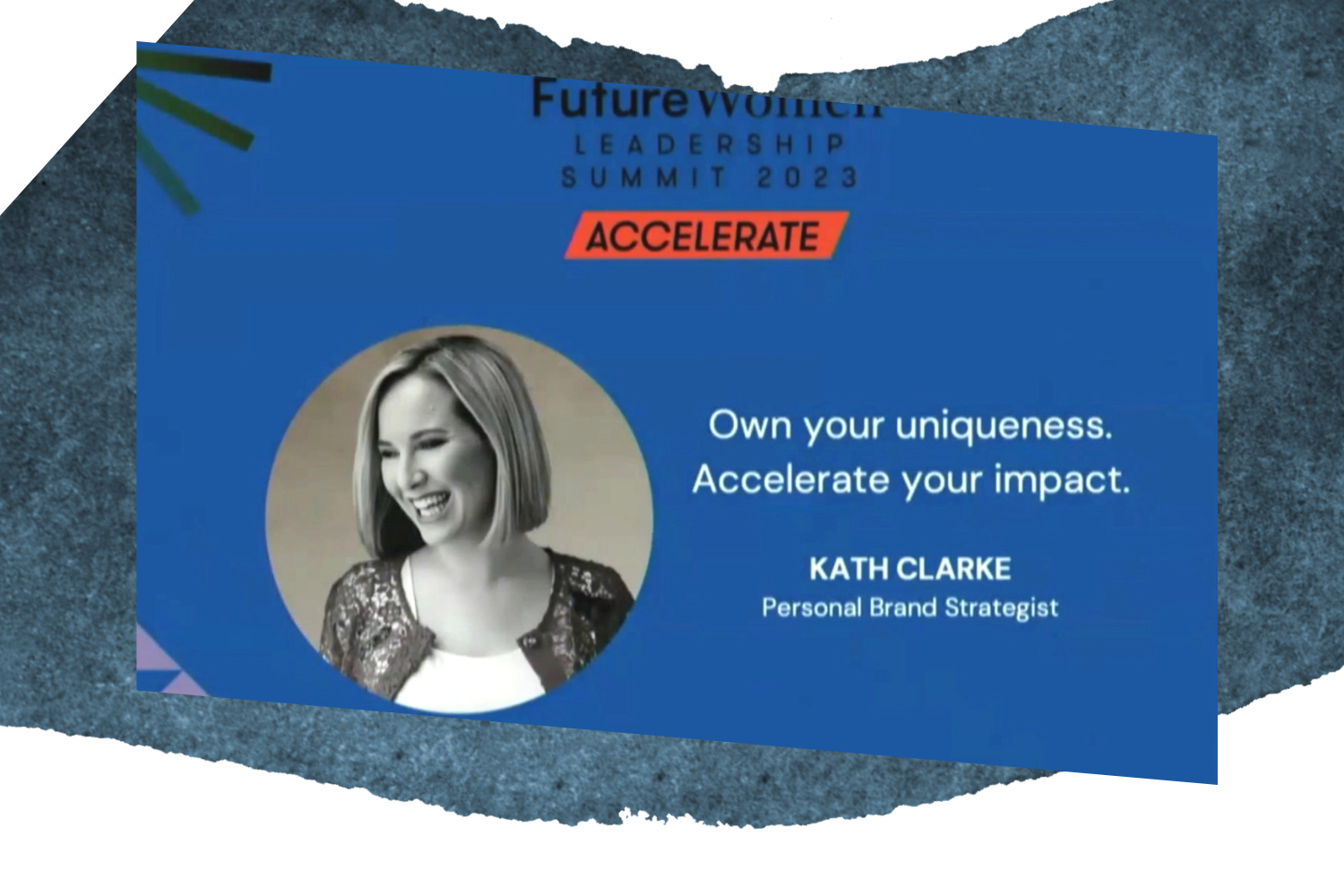 At the start of 2022, I received the most delightful news I had won a scholarship for a Platinum membership to Future Women,  headed up by the amazing Helen McCabe and Jamila Rizvi.
What ensued was a year of confidence building and amazing new connections,  plus a load of empowering support from their online Facebook community.
A few weeks before their International Women's Day summit in 2023, they put a call out for members to pitch an idea for a 7-minute lightning talk, to fit in the theme of the conference which was "Accelerate". 
Given I have spent two good long years repositioning my business into personal brand strategy to really help leaders make the impact they wanted to create in the world, at speed,   I felt like this call-out was talking directly to me.
I was prompted by the beautiful Christine, who sent me a message saying "this one is made for you".  
I pitched my 7-minute talk on how to 'own your uniqueness to accelerate your impact'.  They received many applications but I was selected as the lightning speaker!
Apparently, I became known around the Future Women offices as "Lightning Kath"! Turns out they felt, coincidentally, that the nickname suited my personality perfectly!
My Lightning Talk was delivered to over 200 women and men in the Ivy Ballroom in Sydney, on Tuesday the 7th of March 2023. 
I was sitting alongside speakers and changemakers like; Major General Susan Coyle, Commander Forces Command of Australian Army, the former Queensland Premier Anna Bligh,  Money Girl co-founder Mariam Mohammed, Comedian Em Rusciano, Commonwealth Bank Group Executive Human Resources Sian Lewis, the Commissioner for Children and Young People Helen Connolly,  Karen Mundine from Reconciliation Australia, Dr Lois Peeler AM,  and KPMG Australia's Chairwoman Alison Kitchen, as well as the hilariously on point ABC presenter Annabel Crabb!
This is just a small selection of the incredibly talented and high calibre women who spoke at the event and sat on Q&A panels throughout the 2 days in Sydney. 
I will forever be grateful for the opportunity to position my thought leadership among such impressive and talented women.
If you enjoy watching my presentation and feel it might be relevant to your team I'd love to have a chat with you please reach out via email or the contact form on my website.
See what people had to say during the talk:

The business & career landscape has shifted and there's fertile ground for change, so it's time to action those bold moves you've been thinking about! You know what you're made from… let's get it out there!
In the Impact Alchemy, Kath – an intuitive Personal Brand Strategist – will unearth your unique contribution and alchemise it into the gold you'll be remembered for. Let's align your personal brand to the legacy you want to leave, and build a work-life around your life's work!

https://kathclarke.com/wp-content/uploads/kathtalkfw.png
1000
1500
Kath Clarke
https://kathclarke.com/wp-content/uploads/KathClarke_Logo.png
Kath Clarke
2023-03-09 12:19:09
2023-03-10 16:23:38
Own Your Uniqueness, Accelerate Your Impact | Kath Clarke delivers lightning speech at Future Women IWD Summit 2023